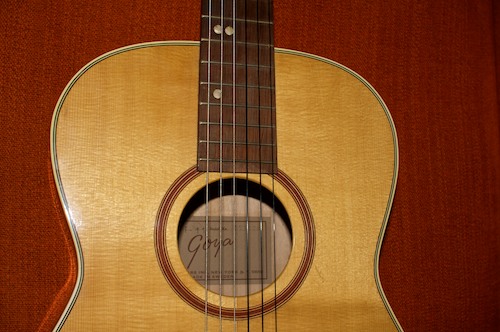 Earlier this year, I bought my first real acoustic guitar and remarked that it sounded lousy, but I liked it. Well, after noodling on it occasionally since then, I've learned that I would've been better off with a classical guitar because I never use a pick and have trouble with strings that are so close together (the bassist in me hasn't gone away). Also, the lousy Yamaha has continued to sound lousy, with frets that wear down at an alarming rate.
After trudging through the rain earlier today, I stopped in at Sandy's to see what inventory he had and fell in love with this wonderful guitar. It's a Goya F-11 made in Sweden sometime between 1963 and 1965. Designed as a "folk" guitar, it has a slightly narrower neck than a classical guitar, which works really well for me and my ladylike fingers. Although the higher action will take some getting used to, the flat, well-carved neck already lets me play fingerstyle stuff much better than I could before. I now have even less to blame on the instrument for my suckiness as a guitarist!
I was so enamored with the bold sound and comfortable feeling of this little bugger that I didn't even care about the cracks in the top. It's lasted 45 years already; I'm hoping I'll be able to take care of it for the rest of its life. The price was right, too — it was cheaper than the Yamaha. Truly, this Goya is a gem. If I could cuddle with it, I would. Barring a more intimate relationship with F-11, I think I'll just enjoy playing it and will see how well I can harness its potential.